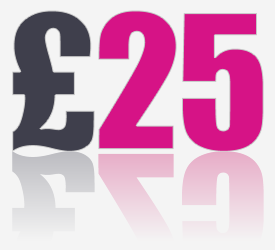 Daisy Bank Design are proud to introduce our "Find a customer incentive scheme!"
Earn some extra cash in the recession!
We all know a builder or hairdresser or mechanic – but do they have a website? Why not ask them and tell them about your experience with Daisy Bank Design.
What does this mean?
We will write you a cheque for £25 if you find and introduce a new client to Daisy Bank Design.
How does it work?
Should you find a suitable client. Please get their permission and pass on their details to us. We will then call them and discuss their website needs with them. Alternatively, get them to contact us directly by phone or email. Most importantly, make sure you tell them to mention your name!
When will I be paid?
As soon as the new customer pays for their website which confirms them as a Daisy Bank Design Customer – we will post you a cheque of value £25.
Should you have any questions then please email sales@daisybankdesign.co.uk